Posts
Post
#1
21-Sep-2017 19:17
Passive Coin is coming !
Stay tuned !
I'm just working on logo, website and then FB group.
It's really fun to build something from scratch  ...  and make it valuable. 
... out of the blue ... uhhh ...
passivetools
Member Since
18-Aug-2014
4,854 posts
#2
21-Sep-2017 23:09
Creating something from nothing is a form of art.
it can be fun and beautiful. 

Looking forward to seeing your success. 
#3
26-Sep-2017 17:23
Going forward ....
Official logo (done by myself) is ready ....
Official domain secured: 
http://www.passivecoin.org/
The content is temporary.
I will be moving the content slowly and optimize the code, moving many styles to css  (if you know what I am talking about).
Anyway, soon ... I will start FB group then first testing give-away will be done, for PE members.
Morlor - you ugly girl, prepare your wallet to get 100 Passive coins ....
p.s.
... well, everything in this project is done by myself. Vytautas have team ... but, I am one-man band. LoL
It's a lot of pain in my back, sitting behind computer ... but the end effect should be worth "something"  .... hopefully, one day ..... LoL 
morlor
Member Since
19-Aug-2014
290 posts
#4
27-Sep-2017 00:07
Looking good BG - my wallet has moths in it right now haha - might be right up Spider's alley tho!

Keep up the hard work - this coin bizzo sure is another language to my 'old' grey matter LOL
#5
27-Sep-2017 06:00
Ohhh ... sorry, I changed URL's of pictures. Now show the official logo of Passive Coin.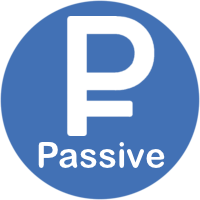 ... but, i will also prepare silver version, etc. to make it more visual attractive. 
Morlor, be sure to have Ethereum based wallet that accept tokens.
Myetherwallet.com for example. Do not provide wallet from exchange or similar ... as you can lose received tokens.
LoL
I dislike hard work
... but, this project got my heart (long-term).
Long road to travel... uhhh  ...
Hope Brian gonna be serious with PEken as crypto. Then, I could include PEken in my backing fund in promising crypto department. 
p.s.
Seems Spider abandoned PE ??!!